Post by Laurence on Nov 19, 2013 1:31:26 GMT 1
www.theguardian.com/tv-and-radio/2013/aug/26/mike-winters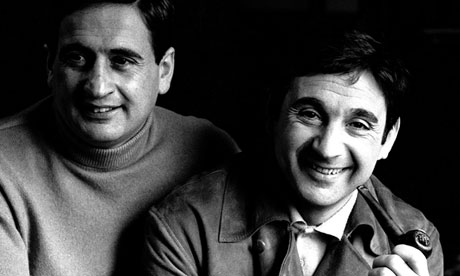 Mike Winters, who has died aged 82, was the straight-man half of the ebulliently zany comic duo Mike and Bernie Winters who, when knockabout music hall seemed to be dying, carried on the tradition with success on television and on the seaside resort summer-show circuit.
At the outset of their careers, when doing a show at Chatham, Kent, for a naval audience, the brothers had decided that Mike should be the funnyman. They rethought this strategy only after Mike, wearing a comical hat, had led his brother on stage to a saltily raucous reception. He suddenly felt all wrong, turned round, thrust the hat at Bernie and said: "You be the comic." Bernie did, for years very successfully, leaving the more solid, pipe-smoking Mike as the agent provocateur and sweeper-up of their act.
He was born Michael Weinstein in Islington, an area that in the brothers' 1976 autobiography, Shake a Pagoda Tree, he remembered as one of the toughest in London; the family later moved to Tottenham. His grandfather, who had arrived in Britain from Russia aged 16, ran a restaurant in Parfett Street, Whitechapel. Samuel, Mike's father, was a boxer and gambler; his mother, Rachel, came from a circus family. Mike went to Tottenham grammar, and represented Tottenham schools against Edmonton schools at rugby. During the second world war, he was evacuated to relatives in Oxford, where he attended the City of Oxford high school for boys.
With a scholarship to the Royal Academy of Music, he learned the clarinet, keeping himself more or less in funds by selling from a stall in Whitechapel. After hearing Johnny Dankworth perform, he realised he would never reach that professional standard, but played his clarinet with a quartet at the Stage Door Canteen, the Piccadilly Circus entertainment venue for wartime servicemen, especially American ones. Mike formed a trio, with Bernie on drums, to appear there on two or three evenings a week, and incorporated an eight-minute comedy slot into the act.
The trio played at weddings and social functions, but also at the Victoria Palace, where the impresario Jack Hylton saw them and said: "One day those boys will be stars." After winning a talent contest in Manchester, Mike and Bernie were each given a three-day engagement at the east coast resorts of Great Yarmouth and Lowestoft before being taken up by the Canadian Army Show unit and, as a fast-developing act, appearing in London at Clapham and Kilburn.
At this stage, the idiosyncratic Bernie was the one who seemed more likely to get hired. Mike set up a mail-order firm selling stockings – then an unofficial currency – and other knick-knacks from an office in Greek Street, Soho. He also had the audacity to go to a theatrical agency and ask them to build up a show around Bernie, with the suggested title Lucky Legs, which he said his mail-order firm would finance. They failed to jump at this idea and soon the business collapsed.
It was just after this that Mike asked his brother if, for old times' sake, they could go to the Chatham show and try out their earlier act. By 1955 they were entertaining American troops based in Germany and other European countries, earning £30 a week each, and competing for attention with star duos such as Dean Martin and Jerry Lewis. A tour with the new singing sensation Tommy Steele was a fiasco behind the scenes, but good publicity, and it led to the BBC producer Jack Good coming to see Tommy, and instead offering Mike and Bernie a spot on TV in the music series The 6.5 Special in 1957. This made them easily recognised in the street for the first time.
They did 6.5 Special for 12 months, and afterwards felt that, unfortunately for them, it had inflated their egos. Bernie accepted a film contract from the producer Cubby Broccoli, but insisted that his brother share his substantial film earnings. Mike did a few situation comedies and took up agenting – including representing Engelbert Humperdinck when he was still going by the name Gerry Dorsey.
Briefly the brothers had a film career together, when Michael Winner directed them in The Cool Mikado (1963). Fortunately, by the time the film appeared, to vehement criticism, both were appearing once more together at the London Palladium pantomime. They appeared on TV with Big Night Out in 1963-64, and introduced the Beatles' manager Brian Epstein to the agent Joe Collins in a BBC lift, which led to the Beatles appearing with them on the show in February 1964 just a week after their triumphant return from their first American tour. All this was good for the Winters's act. They did manic stunts for Big Night Out, hosted Blackpool Night Out from the North Pier, and appeared from Wellington Pier, Great Yarmouth. They presented shows including Mike and Bernie's Music Hall (1967) and Mike and Bernie's Scene (1970).
And their fame spread overseas. By 1969, now a very big act indeed, they were in Australia doing cabaret at the St George Leagues Club. In 1972 they did a South African tour. They decided they would switch from summer seasons to one-nighters, and Thames TV made Mike and Bernie (1971-72), a six-part show that reached the top 20 in the ratings, but which they thought gave them too little scope for characterisation. They resumed seaside shows at Torquay, Great Yarmouth and Blackpool, and did another stint in Australia, establishing the pattern that would see them through the rest of their careers, until Mike became estranged from his brother in the late 70s.
After their act split in 1978, Bernie found new success partnered with a St Bernard dog, Schnorbitz. Although Mike and Bernie were later reconciled, they did not perform together again, and Bernie died of cancer in 1991. Mike moved to Miami, Florida, where he became involved in a soccer franchise, ran a nightclub, worked for a TV production company and took to writing thrillers. He also ghostwrote I Only Talk Winning (1983) with the boxing trainer Angelo Dundee. In 2010, he published a memoir of his years in light entertainment, The Sunny Side of Winters, and he later returned to the UK, settling in Gloucestershire.
Mike married Cassie Chaney in 1955. She and their two children and five grandchildren survive him.
• Mike Winters (Michael Weinstein), comedian, born 15 November 1930; died 24 August 2013