Post by Laurence on Dec 8, 2012 1:56:25 GMT 1
The following have recently left us from the world of entertainment in the UK .
Eric Kent
Eric Kent was a character actor who appeared in numerous productions between 1967 and 1990. His credits included some of the best known series on television such as
Doctor in the House, On the Buses, Doctor Who, The Saint, Doomwatch, Blake's 7, The Sweeney, Cribb, Juliet Bravo, The Bill
and
The Comic Strip Presents...Fred Ridgeway
Ridgeway was the youngest of eight children born to a railway worker and his wife in Dublin. The family moved to south-east London, where Ridgeway showed an aptitude for drama at his local school. His teachers encouraged him to apply for work with the National Youth Theatre. Having been accepted, he spent many happy summers there, learning how to act and appearing in a wide range of productions. On leaving school at the age of 18, he embarked on a career as a high-flying money broker, striking deals on foreign exchange markets and working in Frankfurt and on Wall Street. All the time, though, he maintained his interest in the theatre by appearing in productions staged by amateur dramatic societies. The big switch came when he was 42. With his family's support, he fulfilled a lifetime's dream of becoming a full-time actor. On TV, he appeared in
EastEnders, The Bill, Heartbeat, Casualty
and as Father Dillon in the much-missed comedy series
Father Ted
. In the theatre, he worked with the Royal Shakespeare Company and at the Royal Court. Fred Ridgeway, who was born on October 16, 1953, died of motor neurone disease on November 12. He was 59.
Chris Stamp
A key figure in creating the image of the Who, pop impresario Chris stamp founded his own label, Track Records, with his business partner Kit Lambert. One of their first signings was Jimi Hendrix. Stamp met Lambert when he was working as an assistant producer at Shepperton Studios. In 1963, they decided to make a film about the emergent beat group scene. The following year, Stamp found the group they needed to appear in the film. The High Numbers, as the Who were then called, were playing in a pub in Harrow. Lambert flew back from Dublin to hear them. Then, Stamp and Lambert signed the group to their company, New Action, each of them taking 20% of the band's earnings. A deal was negotiated with Decca, which recorded the Who's first hit, I Can't Explain (1965). The younger brother of the actor Terence Stamp, Chris Stamp, who was born on July 7, 1942, died on November 24, aged 70.
John Heffin
In 1974, John Hefin created the drama
Pobol y Cwm
(People of the Valley) with the playwright Gwenlyn Parry. Originally broadcast on BBC Wales and subsequently on S4C, almost four decades later the show retains its signature status for the Welsh-language channel and stands as the first to be broadcast five nights a week and the longest-running television soap opera produced by the BBC. Born in Aberystwyth on August 14, 1941, he became an enthusiastic amateur actor before training as a teacher at Trinity College, Carmarthen. He joined the BBC in 1960 as a trainee production assistant and went on to produce and direct for BBC Wales, eventually becoming its head of drama before retiring in 1993. His credits included
Bus to Bosworth
(1976) with Kenneth Griffith, the controversial rugby drama
Grand Slam
(1978) and, most successfully,
The Life and Times of David Lloyd George
in 1981. With Philip Madoc in the title role, it ran for 13 episodes and saw its Ennio Morricone theme tune reach no. 2 in the pop charts. In 1984 he directed the Prince of Wales narrating an animated adaptation of his children's story The Old Man of Lochnagar. He died, aged 71, on November 19 and is survived by his wife, former wife, and three children.
Bob Kellett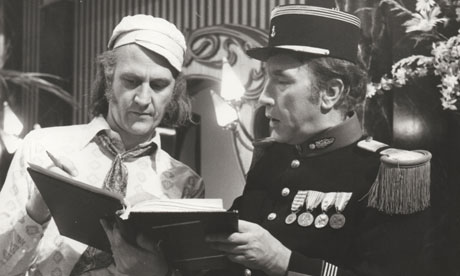 Working with the cream of British comic talent, Bob Kellett directed a swathe of films that fell somewhere between the
Carry On
pictures and the
Confessions
series of sex comedies. After producing a number of short Look at Life features for Rank, his first comedy was
Futtocks End
(1970), which centred on the decaying country home of the eccentric General Futtock, played by Ronnie Barker. Three Frankie Howerd movies followed –
Up Pompeii
(1971), a spin-off from the television comedy set in ancient Rome with Howerd playing a slave;
Up the Chastity Belt
(also 1971), set in the Middle Ages with Howerd now cast as a peasant; and
Up the Front
(1972), in which the action moved to the First World War. Here, Howerd played a soldier with a master plan for invading Germany tattooed on his backside. He was also responsible for transferring the cast of
Are You Being Served?
to the big screen, relocating them from Grace Brothers department store to the Costa Plonka. But like many television comedies lengthened for the cinema, it failed to work as a movie. Kellett, who was born on December 25, 1927, died on November 27, aged 84.