Post by Laurence on Oct 14, 2012 10:03:39 GMT 1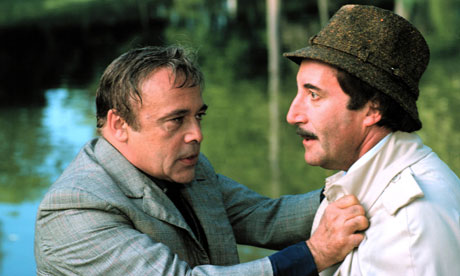 Actor Herbert Lom, best known for playing Charles Dreyfus in the
Pink Panther
films, has died aged 95. The Czech-born, London-based actor starred opposite Peter Sellers in several films as Inspector Clouseau's irritable boss.
Lom appeared in more than 100 films during his 60-year acting career, including such classics as
The Ladykillers, Spartacus
and
El Cid
. Lom starred in his only regular TV series, in the British drama,
The Human Jungle
(1963–64) as a Harley Street psychiatrist, over two seasons.
Lom was born Herbert Karel Angelo Kuchaèeviè ze Schluderpacheru in Prague to Karl Kuchaèeviè ze Schluderpacheru, and his spouse, the former Olga Gottlieb. Lom himself claimed that his family had been ennobled and the family title dated from 1601. Lom's film debut was in the Czech film
Žena pod køížem (A Woman Under Cross)
followed by the
Boží mlýny ("Mills of God"
). His early film appearances were mainly supporting roles, with the occasional top billing. At this time he also changed his impractically long surname to Lom ("a quarry" in Czech) – because it was the shortest he found in local phone book.
In January 1939, because of the threat of Nazi Germany occupying the rest of Czechoslovakia, Lom escaped to England. He made numerous appearances in British films throughout the 1940s, usually in villainous roles, although he later appeared in comedies as well. He managed to escape being typecast as a European heavy by securing a diverse range of castings, including as Napoleon Bonaparte in
The Young Mr. Pitt
(1942), and again in the 1956 version of
War and Peace
. He secured a seven-picture Hollywood contract after World War II but was unable to obtain an American visa for "political reasons". In a rare starring role, Lom played twin trapeze artists in
Dual Alibi
(1946). Lom starred as the King of Siam in the original London production of Rodgers and Hammerstein's musical, The King and I. Opening at the Drury Lane Theatre on 8 October 1953, it ran for 926 performances.
Lom was perhaps best known for his portrayal of Chief Inspector Charles Dreyfus, Inspector Clouseau's long-suffering superior in several of Blake Edwards's
Pink Panther
films. He also appeared in two different screen versions of the Agatha Christie novel
And Then There Were None
. In the 1975 version he played Dr. Armstrong, and later appeared in the 1989 version as General McKenzie.
He died in his sleep on 27 September 2012.