Post by Laurence on Sept 1, 2012 16:37:50 GMT 1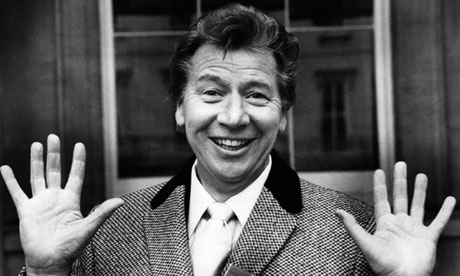 Veteran entertainer Max Bygraves has died in Australia, aged 89. The comedian, actor, and singer, whose catchphrase was "I wanna tell you a story", died in his sleep at home in Hope Island, Queensland, on Friday. He had been suffering from Alzheimer's disease. He emigrated from Bournemouth, Dorset, to Australia in 2005. "We have lost one of the best entertainers that Britain has ever produced," his agent Johnny Mans said."His death is a great loss to the entertainment profession and a great loss to all of his friends in the industry. He was a friend to everyone... there were no airs and graces."
Born Walter William Bygraves on 16 October 1922 in Rotherhithe by the docks in east London the son of poor parents, he was one of seven sharing a two-roomed council flat. Max attended St Joseph's School, Paradise Street and then became a messenger for an advertising agency on Fleet Street. War-time found him an apprentice carpenter by day and, by night, entertaining in local air raid shelters. With two younger sisters evacuated, a brother serving and his docker father often posted to ports throughout Britain. He later changed his name from Walter William to Max after comedian Max Miller. He volunteered for the RAF two months before his eighteenth birthday where he appeared in well over 1,000 RAF concert parties acquiring on the way the title of the 'Best Act in Fighter Command.' It was then that he met and married WAAF Sergeant 'Blossom' Murray in 1942. They eventually produced three children, Christine (1943), Maxine (1951) and son Anthony (1947).
After the war, Max returned to his trade as a carpenter to support a young family on £6.00 a week - but then came his first break, a radio broadcast with the BBC an opportunity he shared with a very nervous Frankie Howerd. That broadcast led to a job in a touring revue 'For the Fun of It ' which lasted 61 weeks. Learning his trade in the 200 variety theatres then flourishing throughout the land, Max gradually worked his way up the bill. He was already a star when food, sweets, petrol, and furniture were still rationed after the war. There followed a dazzling career spanning over 50 years in variety, records, television, and film, winning many awards on the way and earning a reputation as a consummate professional and master of stagecraft.
An appearance on the Palladium bill with Judy Garland led to an invitation to appear with her at the Palace Theatre, New York. Max opened there on his 29th birthday and went on tour America in 1950-52. As one of the first UK imports into the US from the world of variety since Harry Lauder, Max made a raft of friends amongst the top rank of American stars including Milton Berle, Clark Gable, Jack Benny, Jimmie Durante, and many other superstars of the time.
Max recorded his first SingalongaMax LP with his mother Lil's opinion of modern day pop music in mind. This assemblage of yesterday's hits, performed in his relaxed style, first found resonance in Australia from where came the first Gold Disc in 1972. That same LP then took just four weeks to turn to gold in his home country. These albums outsold Presley, Sinatra and Crosby. At one stage he had three albums in the Top Twenty, and another four in the Top Thirty. The decades passed with television keeping him in the public eye with summer seasons in the UK followed by winter tours in Australia, South Africa, New Zealand, Hong Kong, and Canada.
Feature films included 'Charlie Moon' (1954) and 'A Cry from the Streets' (1960) where he drew no salary, successfully gambling on garnering a percentage of the profits. These led, many years later, to a long meeting in London with famed film director Alfred Hitchcock, who liked what he saw in 'A cry from the streets', when he was offered a part in the film 'Frenzy'. Max Bygraves' first appearance at a Royal Command variety show was before George VI in 1950. It was scripted by Eric Sykes who remained a close friend throughout his life and was followed by no less than sixteen further Royal Variety appearances. Amongst his proudest achievements was the award of the OBE.
Comedian Jimmy Tarbuck, who was an old friend of Bygraves, described him as "a great favourite" who "really enjoyed" being on stage. They loved him - you don't get that love very often. Max had it in handfuls. He could be very cheeky, he wasn't above that. I mean he was a rascal. I have nothing but lovely memories of him," he added. Speaking of his friend's impact on his own work, Tarbuck said: "He was a lovely and big, big influence on me, and a very big influence - the way he works - on Des O'Connor. I mean (he was) the King of the Palladium. He ruled it when he was on there, it was a joy to watch him win an audience and he would have them roaring with laughter, he would have them singing along, he could have them with a tear in their eye if he did a sentimental song, just a great, great all round entertainer. I'll miss him and I'm sad today because I was very fond of him - because he was so nice to me when I was a kid, with advice."
Max Bygraves passed away on 31 August 2012