Post by Laurence on Aug 27, 2009 21:39:22 GMT 1
Since returning home from the Delta Quadrant in 2001 nothing has been heard of the crew of
'Star Trek: Voyager.'
With the 'Next Generation' now seemingly retired and the original crew reinvented it looks unlikely that Voyager will venture out into space again to chart the uncharted territories. So 8 years on, let's take a look at where the crew are now.
Kate Mulgrew
Katherine Kiernan "Kate" Mulgrew, born on April 29th 1955, was not originally cast to play Captain Kathryn Janeway in
'Voyager'
. Originally, French Canadian film actress Geneviève Bujold was cast for the role of Captain Nicole Janeway. Rumours of why Bujold quit only two days into filming the pilot episode have differed depending on whose version of events you read. Since STV finished Kate has fleetingly returned to her role as Kathryn Janeway, in a cameo appearance in the movie
'Star Trek: Nemesis'
as well as adding her voice to the computerised Star Trek game
'Legacy'
(released in 2005). On television she appeared as Helen Donnelly in 9 episodes of
'The Black Donnelly's'
(2007) but seems to prefer live theatre having recently completed a long run in
'Equus'
. She has also recently completed a pilot for NBC called
'Mercy'
which has been picked up for the new season, although it is unconfirmed if she will appear in the series. She has earned multiple awards for her acting, including an Obie Award, a Golden Satellite Award, and a Saturn Award. She has also been nominated for a Golden Globe.
Robert Beltran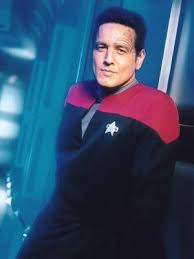 Robert Adame Beltran, born November 19th, 1953 was cast as Commander Chakotay in
'Star Trek: Voyager'
from 1995 to 2001. He was critical of the contrived way in which a relationship was built up between him and the Seven of Nine character in the last half of the final STV season. Beltran founded and co-directed the East LA Classic Theater Group and is also a member of the Classical Theater Lab, an ensemble of professional actors who co-produced his production of
'Hamlet'
in 1997, of which he directed and starred. Since 2003, Beltran has collaborated with actors in the LaRouche Youth Movement on the plays of Friedrich Schiller and William Shakespeare and has produced and starred in a Los Angeles production of
'The Big Knife'
by Clifford Odets, a play which explores the Hollywood environment during the historical period of the "red scares" under the administration of President Harry Truman. One of Beltran's siblings was born with Down Syndrome and for four years between 1998 - 2001, Beltran hosted the Galaxy Ball, a fund raising event for the Down Syndrome Association of Los Angeles. In 2009 he appeared in 6 episodes of the US TV series
'Big Love.'
Tim Russ
Timothy Darrell Russ was born on June 22nd 1956. He might have come into the Star Trek universe earlier than he eventually did as he had auditioned for the part of Geordi La Forge on
'Star Trek: The Next Generation.'
But it was as the Vulcan Tuvok on STV that he finally won a starship role. After STV came to an end he appeared sparodically on television until 2006 when he appeared in three episodes of
'General Hospital'
as Dr. Trent. He has appeared more regularly on our screens in recent years as the character Frank in
'Samantha Who?'
a US sitcom that was nominated for numerous TV awards and as Principal Franklin in the Nickleodeon series
'iCarly.'
More recently Tim has directed the movie
'Night At The Silent Movie Theatre.'
Tim has also released albums of muic, the latest of which is
'...2nd Thoughts'
and has recently published a new children's book and CD titled
'Bugsters.'
Robert Picardo
Robert Picardo, born October 27th 1953 was cast as STV's "holographic" doctor. Since his sick-bay was closed he has gone on to star in a recurring role in another popular sci-fi series
'Stargate SG-1'
(and its spin-off;
'Stargate Atlantis'
), as Richard Woolsey. He is about to start working on the Stargate Atlantis Movie titled
'Stargate: Extinction.'
He has also appeared in
'Smallville'
the US series about Clark Kent/Superman's teenage years as well as
'E-Ring'
as a media rep in The Pentagon, as an enraged father in
'Cold Case'
, and as a police officer in
'CSI: NY.'
Recently, Picardo performed the voice of Loki in the Xbox 360 video game
'Too Human.'
Other career highlights include performing in Leonard Bernstein's Mass in D during its European debut tour.
Roxann Dawson
Roxann Dawson was born on September 11th 1958. She played the role of B'Elanna Torres throughout the entire run of STV. While working on Voyager, Dawson made her directorial debut on the episode 'Riddles', which aired in September 1999. Dawson later directed another episode of Voyager and directed several episodes of
'Star Trek: Enterprise.'
She has also directed episodes of
'Charmed', 'The O.C.', 'Close to Home' 'Lost', 'Heroes', 'The Closer'
, and
'Cold Case'
for which she also acts as a producer. She has seldom appeared in front of camera following STV, her last screen appearance being in the 2004 movie
'Jesus the Driver.'
Robert Duncan McNeill
Robert Duncan McNeill was born on November 9th 1964 and appeared on STV throughout its run as Lieutenant Tom Paris. McNeill began his directing career with several episodes of Voyager. He then wrote, produced, and directed two award-winning short films,
'The Battery'
and
'9mm of Love'
and began to direct other episodic television. While he has since performed as a guest star on television shows like
'The Outer Limits'
and
'Crossing Jordan'
, McNeill is now focusing on his directing career, having helmed episodes of
'Dawson's Creek', 'Everwood', 'Star Trek: Enterprise', 'Dead Like Me', 'The O.C.', 'Las Vegas', 'Summerland', 'Supernatural', 'Desperate Housewives'
and many others before signing on as a producer - director of the NBC show
'Chuck'
, helming numerous episodes, including the 3D episode in 2009, the first episode of a TV show to be entirely in 3D.
Garrett Wang
Garrett Richard Wang, who was born on December 15th 1968, played Ensign Harry Kim on STV from 1995 until 2001, the same year that E! (Entertainment Television) selected Wang as one of the "20 Coolest Bachelors" in the country. He has seldom appeared on television since the series finished. In 2006, he co-starred with numerous other 'Star Trek' performers in the fan film,
'Star Trek: Of Gods and Men'
, directed by and co-starring his former 'Voyager' castmate Tim Russ. While Russ reprised his 'Voyager' character of Tuvok in the series, Wang's role is a new character. Wang recently shot an independent comedy with
'Star Trek: Enterprise'
star Anthony Montgomery called
'Why Am I Doing This?'
Garrett has repeatedly stated that he intends to pursue other projects outside of acting because, as he said in a 2005 interview with 'Esquire', "sometimes talent does not measure up to ambition, so you have to seek alternative options."
Jennifer Lien
Jennifer Ann Lien was born on 24th August 1974 and appeared in STV until 1997. She is allergic to spirit gum, an adhesive commonly used in affixing special effects prosthetics. Following her departure from Voyager, she appeared in the films
'American History X'
and
'SLC Punk!'
. She also gave her voice to the character of adult Vitani in
'The Lion King II: Simba's Pride'
, and voiced Agent "L" for three seasons on
'Men in Black: The Series.'
Lien was asked to return for a special episode of
'Star Trek: Voyager'
in 2000 entitled 'Fury.' Since the birth of her son in 2002, Lien has given up acting and voice over work.
Ethan Phillips
Ethan Phillips was born February 8th, 1955 and cast as Star Trek: Voyager's Neelix. Phillips has performed on three separate variations in the Star Trek TV Universe;
'Star Trek: The Next Generation', 'Star Trek: Voyager'
, and
'Star Trek: Enterprise'
, and he has also appeared in one of the feature length films;
'Star Trek: First Contact'
, and performed in the Star Trek Internet fanfilm titled
'Of Gods and Men'
which starred several of the original series Star Trek cast. He has appeared on screen in over 51 productions since leaving STV and has at least three projects currently in post production.
Jeri Ryan
Jeri Lynn Zimmermann was born on 22nd February 1968 in Munich, West Germany. She joined the crew of Voyager in 1997 when she was cast as the Borg drone Seven of Nine. After
'Star Trek: Voyager'
ended in 2001, Ryan joined the cast of
'Boston Public'
in the role of Ronnie Cooke, a frustrated lawyer who quits to become a high school teacher. The show's producer, David E. Kelley, wrote the role specifically for her. She also had a recurring role as Charlotte Morgan on
'The O.C.'
and guest-starred on
'Boston Legal'
in 2006. Ryan starred in the CBS legal drama
'Shark'
, playing Los Angeles District Attorney Jessica Devlin opposite James Woods, but did not return for episodes aired after the WGA strike. Staying with the law theme Jeri debuted as defence attorney Patrice La Rue in an April 2009 episode of
'Law & Order: Special Victims Unit.'